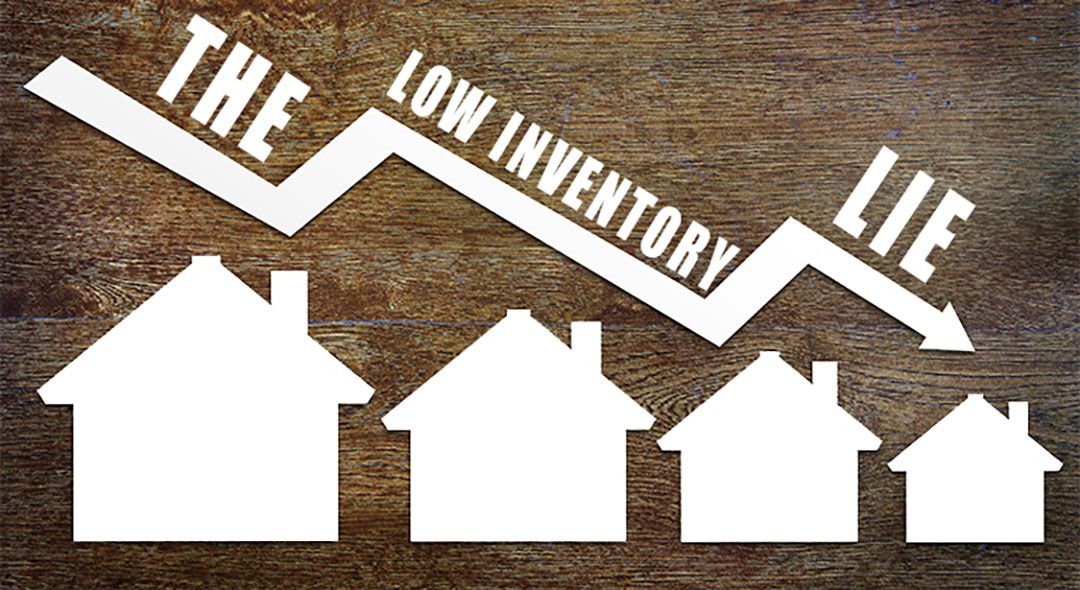 The Low Inventory Lie
For quite some time, Real Estate Professionals in Central Ohio have been decrying that the reason you may be finding it rather difficult to buy a home is because "inventory," is historically low. In this article I will disprove this theory with data presented from markets in Central Ohio. For the layman, 'inventory' refers to the amount of homes actively for sale at any given time in a specific market.
It began innocently enough — I was in line at my favorite coffee shop with my mask raised high. The gentlemen behind me pulled out his phone and raised it to his ear to engage in a conversation. "Hello Brian, this is (Name Redacted) with Big Box Brokerage Super Sales Top 1% Realty. I am calling you because you inquired about (Random address)," he said. It was clear this agent was responding to an internet lead he had just received. As good agents do, he had to reach out as quickly as possible to capture the potentially new client.
I checked my app to see if the coffee was ready — it was bothersome that he was talking Real Estate behind me. No matter how polite and respectful I am of someone's privacy, I can't help but eavesdrop on every detail that was being exchanged. He then uttered something that nearly caused me to interrupt his conversation and instinctively provide correction: "Yeah, it's tough to buy right now because inventory is at historic lows!" "Ugh, you are so full of sh...," I said to myself. stopping abruptly because I realized I was mouth whispering my internal dialogue in a manner that very well could have been audible to him. I turned and saw my coffees were ready — I picked them up and rushed away.
Is Inventory at Historic Lows?
First, I think it is important to point out that this article is based on data pulled from the Columbus MLS alone. To further assist in understanding this source, know that the Columbus MLS encompasses counties surrounding Franklin County and a little beyond. That being said, when reviewing the year over year data from this area, I see the amount of homes listed for sale in April of 2020 was down 27% and in May it was down 26%. These trends are likely attributed to the stationary holding pattern people assumed during the early onset of the Covid-19 Pandemic. Was this even historically low? In a year over year sense, yes, this is an unnatural, drastic reduction in the overall number of homes for sale; however, it was very temporary.
Inventory has been increasing by 1% each year since 2016; conversely, in 2020, inventory overall is on pace to end up increasing by 1.5% or more. Inventory in January was up 10.7% and in February it was up 9.4%. More recently, in September it was up by 5.1% year over year. We are seeing this increase in the MIDDLE of a global pandemic. October is on pace (at the time of this typing) to end up with an increase in new listings of 7.5%! So, the numbers DO NOT support the narrative that we are looking at historically low inventory.
So why all the multi-offer situations?
I only have data to support one reason but I have theories based on conversations with buyers about another. According to The National Association of Realtors, mortgage applications were up 22% year after year in August. At the same time, refinance applications are up 40% year over year the week of August 28th, according to The Mortgage Banker's Assocation: This is all because of what absolutely are historically low interest rates. Last week, I learned about a client who refinanced her home at 2.49%. My own personal mortgage rate in March was 3.25% — which I thought was awesome; however, at least two of my buyers have interest rates at 2.65% or lower just a few months later. Interest rates don't seem to make much sense to you? Look at it this way, in 2007, the last time we had a peak in the Real Estate market, interest rates were in the low 6% range. This means more buyers.
This is causing the overall number of buyers to enter the market increase at the same time that existing home owners are locking themselves into a new loan contract that stops them from selling for the foreseeable future. It's a bad combo. Also, without data to back it, I personally believe that being quarantined at home has made some renters have a come to Jesus moment about the things they want in a home that are missing from the place they rent. People want a home to be "stay at home ordered" in.
So what can I do to compete?
It's simple: be as ready as you can. Have cash in the bank, your loan approval squared away and be ready to see the home and offer BEFORE anyone else. Just because homes are going quickly doesn't mean they ALL are going for significantly more than list price. In fact, the data from the Columbus MLS says homes are selling for just 98.7% of their list prices. Homes that are the most move-in ready are going for much more, and the homes with even the slightest bit of defect (dog smell, for example) are selling for much less than list price. So, besides being super ready to go, make sure you understand that you can unquestionably fix the dog smell, or replace old appliances very easily. This could provide the ability to buy a home for less than it's listing price because other buyers simply aren't willing to do it.
In summary, research the data before just trusting canned responses from Real Estate Professionals about what is happening in the market. You may just find a much more effective strategy and land a home that appraises for significantly more than you initially paid. So, given this information, realize that you CAN spend your next "stay at home order" time in YOUR own home.
Article Sources:
https://magazine.realtor/daily-news/2020/08/06/mortgage-applications-are-22-higher-than-a-year-ago.
https://www.mba.org/2020-press-releases/september/mortgage-applications-decrease-in-latest-mba-weekly-survey.
-Matt Ward